"The Leader in Wings for Unmanned Aircraft"
Foam Matrix has applied the FMC System to a number of significant programs in aerospace and industry.
Unmanned Aerial Vehicles (UAV)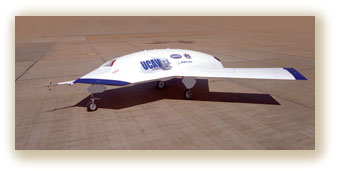 Foremost among the many areas in which they work is developing wings for unmanned aircraft. Typical requirements in these programs are light weight, durability and low cost.
Pegasus
The patented Pegasus rocket of Orbital Science is the world's leading small launch vehicle and a great example of a commercial unmanned aerial vehicle. This air-launched satellite launch system is carried aloft by a L-1011 to an altitude of 40,000 feet and then released. After ignition of its rocket engine the launch vehicle inserts up to 1,000 pound payloads into low-earth orbits (LEO). Contractor Scaled Composites came to Foam Matrix to use their unique Foam Matrix Core system in the manufacture of fins. Pegasus is the first winged vehicle to accelerate to over eight times the speed of sound.
Joint Air Surface Standoff Missile (JASSM)
Foam Matrix is building the wings, elevons, and tail for the JASSM using the Foam Matrix Core System. Lockheed Martin base lined the FMC System into the vehicle as a way of dramatically reducing the cost. They credited the use of commercial processes as one of the factors in winning the contract. Development work and the manufacturing processes were performed by Foam Matrix.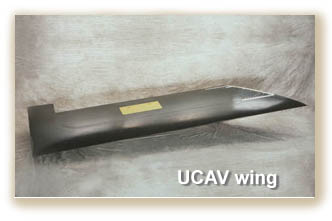 UCAV
Foam Matrix built the wings and control surfaces for the Boeing X-45A Unmanned Combat Air Vehicle (UCAV). The wings are over 14 feet long and are built in one piece without any secondary skin bonds. The UCAV began flight testing on May 23, 2002. This remotely piloted aircraft promises to usher in a new era in combat air operations with exceptional performance and stealthy qualities matched into a highly reliable platform. As a result of their efforts on this program they were honored by The Boeing Company's Phantom Works with the first 2002 Supplier Innovation Award.
Other Aerospace Applications
The Foam Matrix Core System is ideally suited for a variety of other types of aerospace applications including doors, winglets, fins, wings, antenna structures, various other flight control surfaces, inlet ducts, panels and so forth. Platforms include not only limited life vehicles like UCAV, but also new aircraft, next generation launch vehicles, targets, reconnaisance drones and even replacement parts for older aircraft like the B-52, KC-135 and C-130. Commercial aerospace and general aviation aircraft applications are also plentiful, thanks to the low cost benefits of the FMC System.
Wind Turbine Blades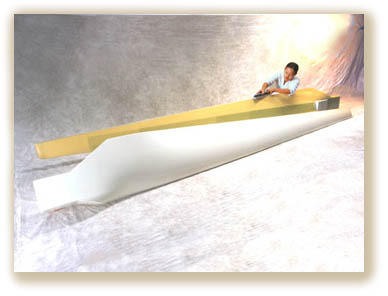 Foam Matrix continues to build wind turbine blades for commercial customers. The structure of the blades is designed by Foam Matrix. Over 100 blades have been produced without any failures. Blades using the Foam Matrix Core System have been in continuous use for over five years. They have conducted research with large research agencies with a goal to producing new, optimized wind blades.
Other Commercial Applications
The FMC System is suited for a variety of other applications, many of which are only waiting for investigation. In transportation FMC System produced parts may be naturally suited for truck and bus bodies and components; marine vessels – military, commercial and private; shelters; specialty packaging; and architecture. Because of the low thermal conductivity of the foam core there are other applications that can benefit from the insulating properties of these structures.